Brandan Ahuna
Harness the power of nature -- from the power of the ocean, to the power of koa.
What are the challenges to making a surfboard out of a plank of wood?
There are certain things you can do to the board to make it better. I noticed that if I change the pitch of the rail, it affects the way the board turns, or how big the board is determines how good it paddles. There is a little play. Overall, big, small, whatevers, the board rides the same on the wave. To me, it's more of the person. You have to put your energy into it in order to understand it. You got to try it and keep trying it. It's always the surfer, not the board. You have to change to make it work wherever you use it.
Sometimes, certain surfboards are made for certain waves, depending on the wood. You have your heavier woods, which are more difficult to surf, and then you have lighter woods for lighter boards. Riding the kiko'o at Bayfront was epic. The board matched the wave. They are so fast you need a longer wave to ride those boards. You could still surf them at Honoli'i, but you wouldn't get that full ride and be able to feel the full energy of the wave.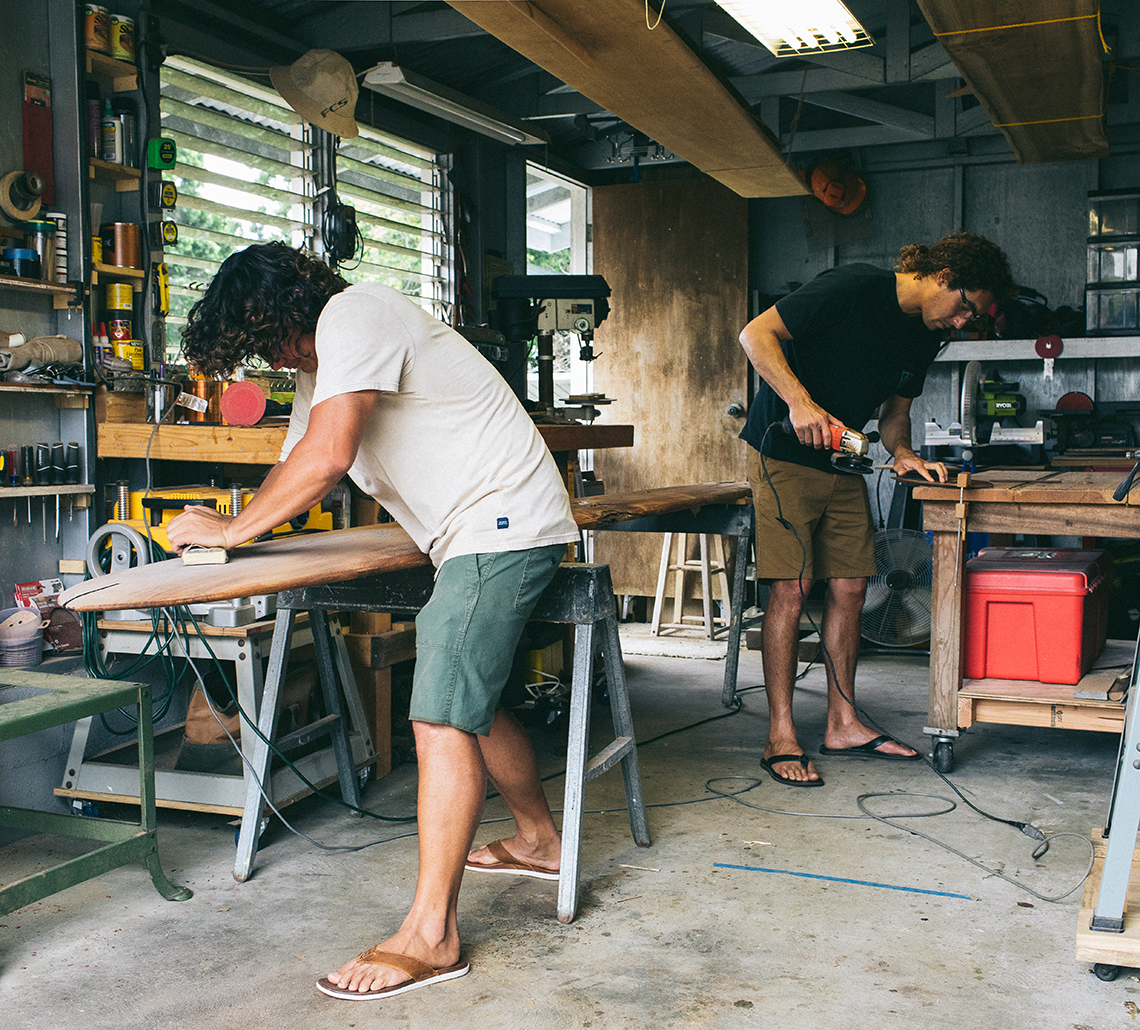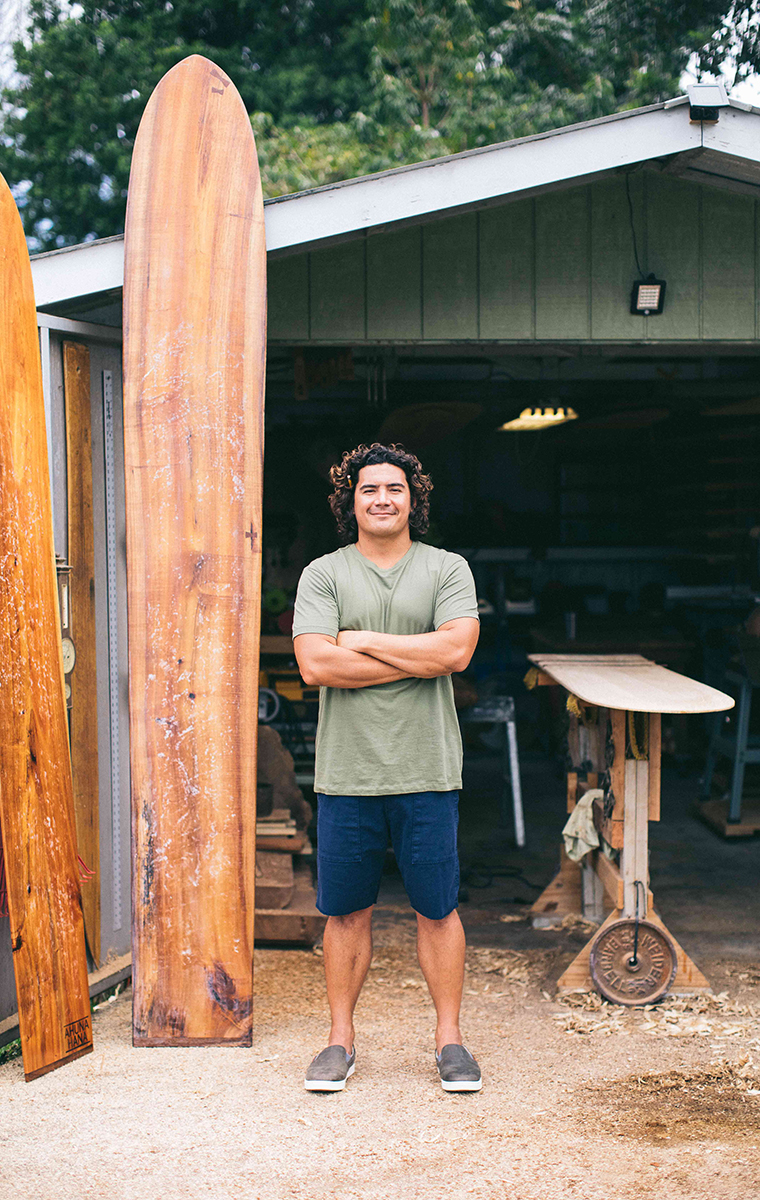 Photos by OluKai
What type of wood do you usually work with?
Primarily I work with Paulownia. It's easy to carve and shape out. It's super light and naturally, it doesn't absorb salt water. In the alaia, you want it to be a lighter board, you don't want it to be heavy. It's so fast already being flat; it's easier to control when it's lighter. The koa boards are hard to control because they are so heavy and long.  
Are traditional Hawaiian surfboards something that anyone can jump on and get the hang of?
In anything you do in the ocean, you have to know the ocean. You have to know what it does, the currents, the energy. You have to know all that before you go out and into it, no matter if you're surfing, body surfing, or riding an alaia. You have to be safe.
I learned that from my grandfather. He taught me everything about the ocean. He raised me on the ocean and taught me how to surf, how to fish, how to dive, how to live. It was hands-on. We spent every weekend, any time we had that he wasn't working. We would go to the ocean for food, for family, especially the kupuna. We'd get fish for them, wana, opihi. He always taught us to respect the ocean. You got to know the right time, the right place, and to always give. You don't take from the ocean and sell, you take what you need and if you get extra, you give.
Hawaiian lifeguarding is a proud tradition and tight-knit community, the highest standard to which guards in other coastal communities aspire. OluKai is humbled to play a significant role in nurturing that tradition. For each pair of the Hawaiian Lifeguard Collection, a portion of the proceeds directly supports Hawaii's Junior Lifeguard Program, inspiring and training the next generation of Kalepas and Aikaus. "No matter what anyone says, if you put your mind to it, you can do it," Kalepa tell these Junior Guards. "I know it's true because I did it. Stay focused, stay healthy, stay fit, and keep your integrity. Those are things that we need to build, not just lifeguards but great leaders in the community."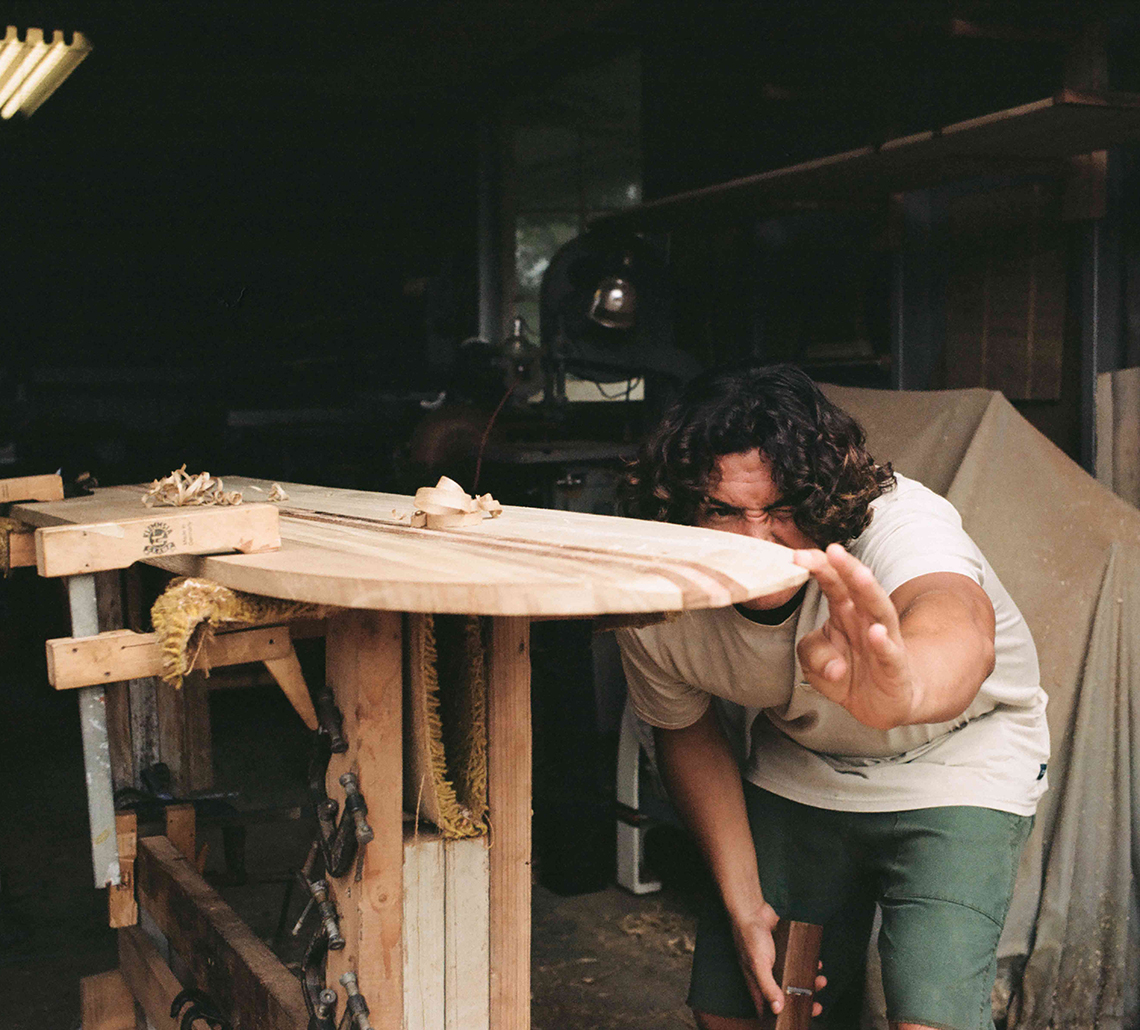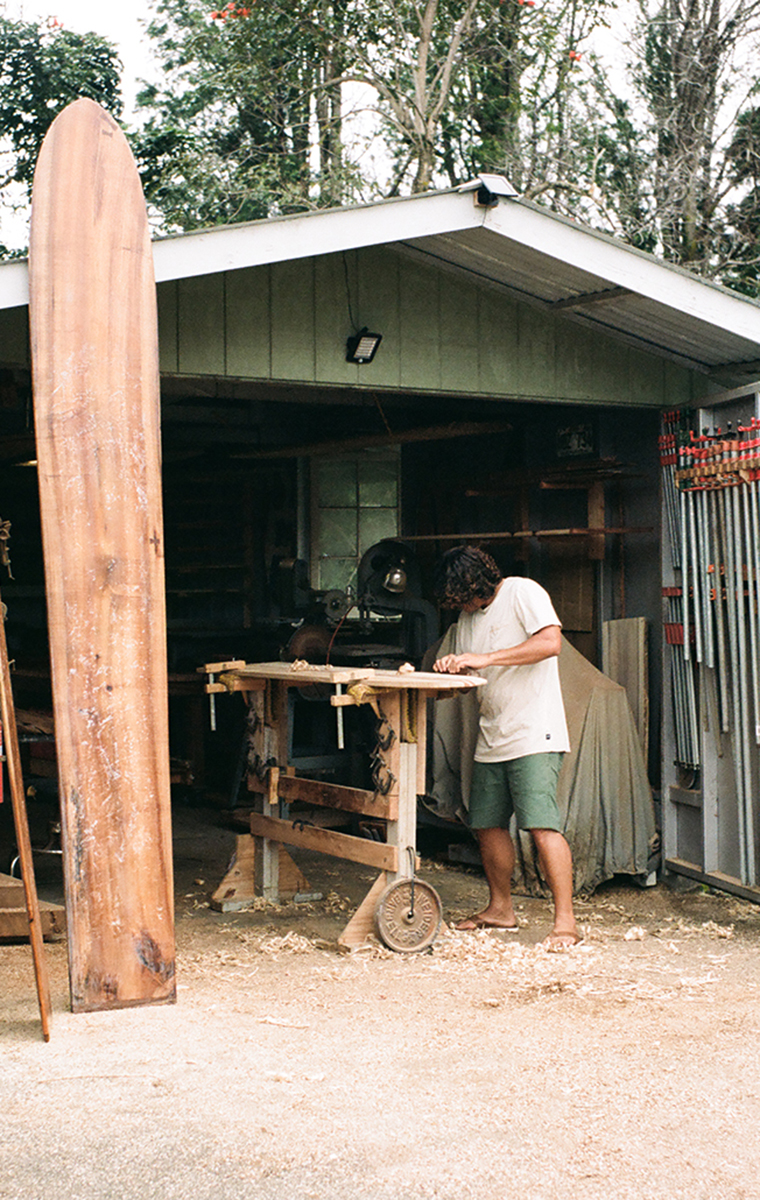 Photos by OluKai
Do your grandfather's lessons about the ocean carry over to the workshop?
I take what he taught me, and then I use my own mana'o. It's trial and error.
What's it like to work with koa wood?
The koa is native, and it's beautiful and hard to get. Any time I get koa is more exciting. Paulownia is nice, but having the connection of koa, being from the 'āina at home, and being able to make it into something—putting your mana into it and making it functional, functional art, that feels good. I always like to know where the wood came from, how it was brought to be. I don't believe in cutting down a tree to make stuff out of it. When I think of koa, I think of kupuna. They're old. They're one of the first things on this island. It has a spirit. Working with the koa, you can feel it—hard to explain.