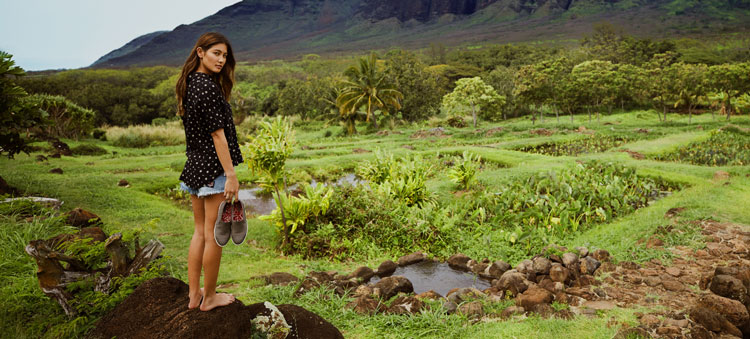 Why does OluKai name each of their products Polynesian words?
The Polynesian culture is an oral history, passed along through storytelling. Naming our products with Hawaiian words is our small way of spreading and preserving the culture for future generations.
How do I wash/care for my OluKai footwear?
Do you have a guarantee on your footwear?
Yes, we guarantee all OluKai footwear against manufacturer's defects for one year from the date of purchase. Learn more about the OluKai warranty.
How do I return products purchased from OluKai.com?
Visit our returns portal to begin a return for product purchased from olukai.com.
If I wear a half size in shoes, how should I size my OluKai sandals?
Our sandals only come in full sizes. Fit can be a bit difficult to determine, as it is usually your personal preference. If you are often a half size, there are a couple of considerations in deciding to size up or down. If you prefer extra room in your sandals, we suggest going up a half size. If you prefer a more snug fit, it is recommended to order down if you are a half size. Please keep in mind if your feet are narrow or wide, this may affect the fit of our footwear.
What do I do if my sandals or shoes are damaged/defective?
Return all OluKai sandals and shoes covered under warranty to the original place of purchase. The authorized retailer can replace the footwear in question. Please remember to bring your receipt. If the sandals or shoes are under warranty and were purchased on vacation or in a location other than where you live, submit a warranty request.
How do I find my nearest OluKai retailer?
Are OluKai leather sandals and shoes waterproof?
OluKai leather sandals and shoes are water-resistant, not waterproof.
Why are OluKai sandals and shoes so comfortable?
It's a combination of premium materials and contoured shapes that form the structure of OluKai. At the core of all our footwear is our anatomical footbed; a biomechanically engineered shape that supports and positions your entire foot naturally, allowing it to move through the stride comfortably and correctly. Our deep heel contour centers, aligns, and supports the foot.
How does OluKai reduce its environmental footprint?
We use natural latex in our gum rubbers, 30% recycled material in all our outsoles, and 100% recycled material in our packaging. We source all of our leathers exclusively from environmentally conscious ISO-14001 certified tanneries. We are exploring water-based glues, however at this time the sub-par bond durability outweighs the benefits. We will make the switch once the bonding strength improves. We consider making high-quality, long-lasting footwear as one way to reduce our environmental footprint.
Where are your products made?
All of our footwear is designed and developed in the United States and manufactured in Asia.
Do you carry vegan footwear?
Yes! We have two basic types of product at OluKai, Mauka (towards the land) and Makai (towards the sea). Our Makai products are made to be water friendly and made from all synthetic material, no animal products. Our Mauka products are generally Closed Toe and predominately made with leather; however we do have Mauka closed toe styles that use canvas or twill that are 100% synthetic. View material details on the product details tab under each product. Vegan styles are noted in the product description on our site, but a place to start is our 'Ohana sandals (synthetic) or our Menʻs Nohea Moku or Womenʻs Haleʻiwa if you want a closed toe style, both are 100% Vegan. Note that "synthetic leather" is 100% synthetic.
How quickly will my order ship?
After your payment is verified. Due to COVID-19, we are experiencing very high order volumes, and orders are taking up to 3-5 days to process and ship out of our warehouse. Once your order ships, you may experience additional delays in transit from the carrier
Where do you ship from?
Orders are shipped from Chino, CA 91710.
Do you offer Saturday or Sunday delivery?
We do not currently offer Saturday or Sunday delivery.
Where can I find information for events and athletes for sponsorship?
For sponsorship/donation requests for events, please email the details to events@olukai.com. Our athlete sponsorship program is currently with the Hawaiian Lifeguard Association and Hawaiian Lifeguards. We do not have athlete sponsorship programs available at this time.
How do I become an OluKai retailer or international distributor?
Send us your name, phone number, store/distribution name, store/distribution address through our contact form. 
Do you have replacement laces and insoles available?
Yes, we do have most replacement laces and replacement insoles available. If your laces or insoles are defective, please send a photo of a defect along with the style information of the shoe (printed on the inside upper) and your shipping address through our contact form.
Size Chart